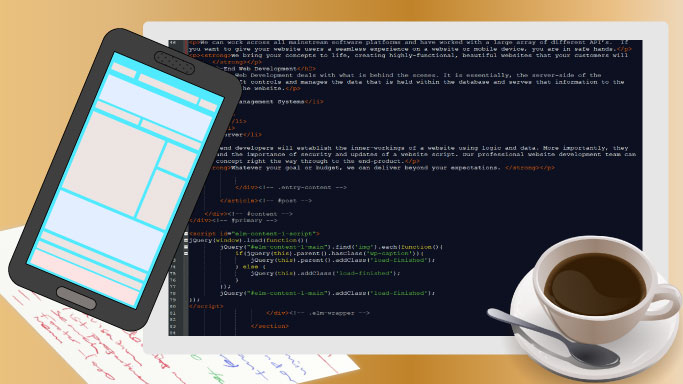 Our approach to website development ensures you get the best technical capacity from a team of experts who know exactly what they're doing.
Professional
Easy to Deal With
Efficient
Talented
Front-End Web Development
Front-End development deals with the part of the website that your clients will see. Essentially, it controls how the website displays what is created by the website designer. Our talented team possesses an infinite level of skills including the most popular which are listed below:
GitHub
CSS
HTML
JavaScript
CSS
Frameworks
Libraries
We can work across all mainstream software platforms and have worked with a large array of different API's.  If you want to give your website users a seamless experience on a website or mobile device, you are in safe hands.
We bring your concepts to life, creating highly-functional, beautiful websites that your customers will love.
Back-End Web Development
Back-End Web Development deals with what is behind the scenes. It is essentially, the server-side of the development. It controls and manages the data that is held within the database and serves that information to the front-end of the website.
Content Management Systems
PHP
Rub
Python
ASP
SQL Server
Back-end developers will establish the inner-workings of a website using logic and data. More importantly, they understand the importance of security and updates of a website script. Our professional website development team can take a concept right the way through to the end-product.
Whatever your goal or budget, we can deliver beyond your expectations.